Greystar Completes First Logistics Project in Houston
Press Release
March 8, 2023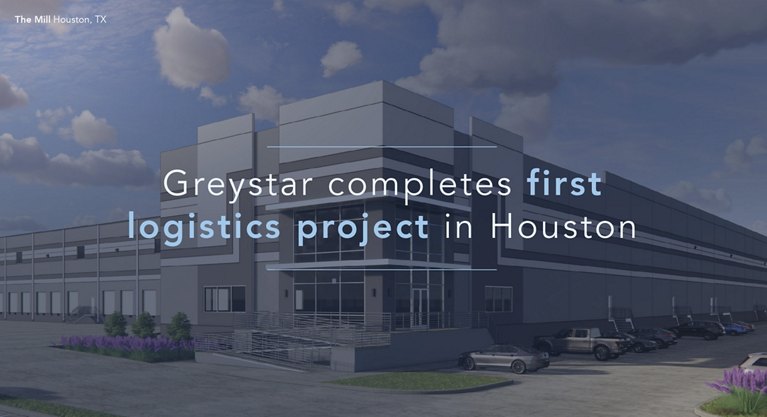 Houston, T.X. – March 8, 2023 – Greystar Real Estate Partners, LLC ("Greystar"), a global leader in the investment, development, and management of real estate, including rental housing, logistics, and life sciences has completed its development of The Mill, a 166,000 sq-ft, shallow-bay distribution facility in Northwest Houston, Texas.
"The Mill marks the first of many milestones to come for Greystar and our development pipeline as the demand for logistics continues to grow in Houston," said Brian Herwald, Managing Director of Development at Greystar. "We look forward to leveraging our local expertise and decades of experience operating in high-demand US markets to bring a unique logistics platform to Houston. Houston is a major distribution hub and cargo ship operators are choosing the Port of Houston over coastal ports to avoid congestion and potential delays."
The Mill is Greystar's first logistics project in Houston and is located along Highway 249 with excellent access and visibility. Some of the facility's attributes include a 220' building depth, 185' truck court, 32' clear height, 33 dock-high doors and 12 trailer stalls.
Greystar has also started construction on Beltway 35 Business Park, a 91-acre logistics development along the South Belt of Houston, comprised of five modern logistics facilities totaling approximately 1.3 million sq-ft. Phase I is underway with three buildings totaling 590,000 sq-ft and is expected to be completed by September of 2023.
"Our Beltway 35 project is targeting distributors near the port as well as south and southwest Houston with products such as energy-related and medical supplies, construction materials, e-commerce products and consumer goods. We are excited to be able to accommodate a variety of tenant sizes from 50,000 to over 500,000 sq-ft," said Tyler Williams, Senior Director of Development at Greystar. "The project should benefit from having superior access to the Beltway and from the tremendous population growth within the nearby cities of Sugarland and Pearland. This local growth will continue to propel the demand for logistics space in the area."
The $1 billion Houston Port infrastructure project currently underway to widen and deepen the ship channel should be a key driver of logistics projects for Greystar in Houston. The port set another record for 2022 with container volumes of 4 million TEU's, a 14% increase over 2021, which almost doubled the volume from 2016.
About Greystar
Greystar is a leading, fully integrated global real estate company offering expertise in property management, investment management, and development services in institutional-quality rental housing, logistics, and life sciences sectors. Headquartered in Charleston, South Carolina, Greystar manages and operates more than $250 billion of real estate in 227 markets globally with offices throughout North America, Europe, South America, and the Asia-Pacific region. Greystar is the largest operator of apartments in the United States, manages nearly 794,000 units/beds globally, and has a robust institutional investment management platform comprised of more than $62 billion of assets under management, including over $26 billion of development assets. Greystar was founded by Bob Faith in 1993 to become a provider of world-class service in the real estate business. To learn more, visit www.greystar.com.


Greystar Media Inquiries
zain.abouseido@greystar.com
Tel: +1 215.398.0628