Lehigh University, Greystar Real Estate Partners celebrate the opening of SouthSide Commons
Press Release
August 14, 2019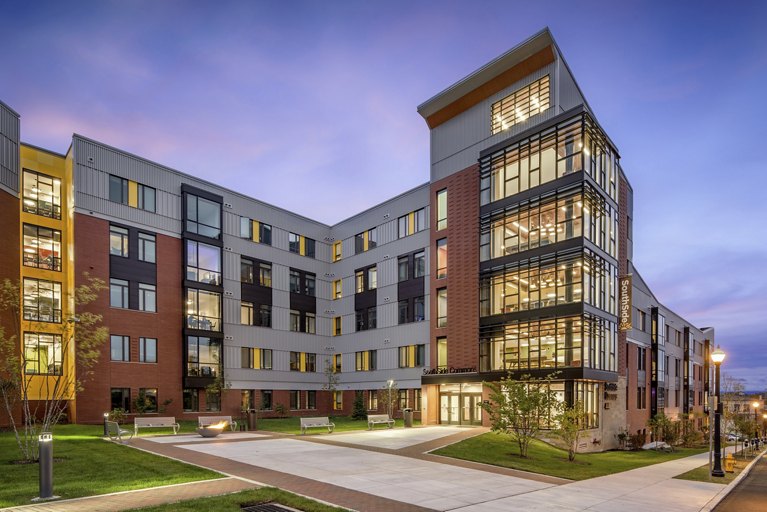 Bethlehem, PA August 13, 2019―Lehigh University hosted a ribbon-cutting ceremony to mark the opening of SouthSide Commons on Tuesday. This new, modern facility will provide housing for 426 students each year and marks a significant milestone in the university's growth plans.
The new residential development is part of Lehigh's Path to Prominence, its ambitious plan to grow and evolve into an even more impactful and innovative university. Over the next decade, Lehigh will increase its undergraduate population by 1,000 students, or roughly 20 percent, while increasing its graduate student population by 500. That expansion is part of an overall plan to strengthen the diversity and intellectual vibrancy of the student experience, support cutting-edge research and broaden the impact of Lehigh, its students and faculty on the world.
"This is a truly dynamic moment in Lehigh's history," said John Simon, President of Lehigh University. "SouthSide Commons is an important addition to the campus, enhancing the options available to students to have an enriching residential experience throughout their time at Lehigh. With its proximity to the SouthSide business district this new modern facility will also continue to strengthen ties between the university and the South Bethlehem community."
Lehigh built SouthSide Commons in partnership with Greystar Real Estate Partners, a leader in collegiate housing.
"We're thrilled to work with Lehigh to advance its Path to Prominence program by introducing an on-campus housing option that can immediately serve the needs of its students while creating critical infrastructure to support the university's long-term enrollment growth plans," said Tom Trubiana, Executive Director of Investment Management at Greystar, who oversees the firm's collegiate housing platform. "We've seen first-hand how creating a thoughtfully-built, supportive environment can enhance learning outcomes for students and positively impact universities and their surrounding communities."
Lehigh continues the work of building a campus that will support the teaching, research and learning of the 21st century. Site work has begun on the Health, Science & Technology Building, which will serve as the home of its innovative new College of Health. Construction is also moving ahead as planned for the New Residential Houses, formerly known as Bridge West. These on-campus residential facilities, to be built over the course of two phases, will become home to more than 700 students. Phase 1 of the project is expected to be completed by 2020, with Phase 2 to follow by 2022.
About Lehigh University: Lehigh University is a premier private residential research university. Most of our students—undergraduate and graduate—live on campus, allowing research and discovery to happen almost anywhere. We are ranked in the top tier of national research universities each year, and our four colleges have earned a reputation for their entrepreneurial and interdisciplinary approach to learning.
About Greystar: Greystar is a leading, fully integrated real estate company offering expertise in investment management, development, and management of rental housing properties globally. Headquartered in Charleston, South Carolina, Greystar manages and operates an estimated $115 billion of real estate in over 180 markets globally including offices throughout the United States, UK, Continental Europe, Latin America, and the Asia-Pacific region. Greystar is the largest operator of apartments in the United States, managing approximately 500,000 units/beds, and has a robust institutional investment management platform with $33 billion of assets under management including $12.1 billion of assets under development. Greystar was founded by Bob Faith in 1993 with the intent to become a provider of world-class service in the rental residential real estate business. To learn more, visit www.greystar.com.