MSU, Greystar celebrate opening of College View student housing development
Press Release
August 12, 2019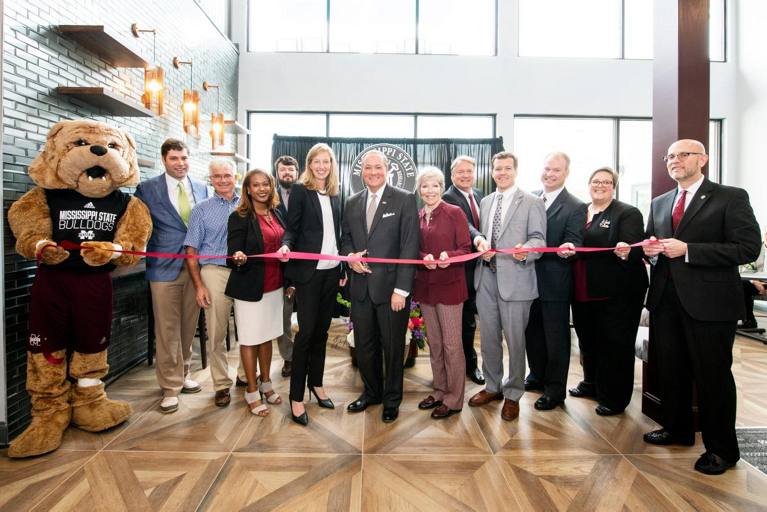 STARKVILLE, Miss.—With the fall 2019 semester right around the corner, Mississippi State University is opening a new housing development that is the first of its kind in the state.
MSU and Greystar Real Estate Partners held a ribbon-cutting ceremony Thursday, August 8th to officially open the College View development, a public-private partnership between MSU and Greystar. The $67 million facility includes 656 residential beds, 46,000 square feet of retail space and a 7,000 square foot addition to the MSU Child Development and Family Studies Center.
"This development sets a new standard for student housing in Mississippi and provides a unique way to meet our growing housing demands," MSU President Mark E. Keenum said. "I am thankful to everyone at MSU, the Mississippi Institutions of Higher Learning Board of Trustees and Greystar who has worked to make this project a reality."
The public-private partnership with Greystar gives MSU the benefits of a new building without issuing bonds or assuming additional debt. Greystar is financing, building and managing the development utilizing a 40-year lease of university land with a 10-year renewal option.
"We are delighted to celebrate the opening of College View, which will provide MSU students with a high-quality on-campus housing option that is intended to promote greater learning outcomes," said Julie Skolnicki, Senior Managing Director of University Partnerships at Greystar. "Research shows that creating the right environment can lead to higher retention and graduation rates, and we're thrilled to work with MSU to enhance its students' on-campus experience."
The development is named after the street it resides on and is located within walking distance of MSU's athletic and academic facilities, as well as the Cotton District and downtown Starkville. College View includes one-, two- and four-bedroom units that are available to MSU upperclassmen, as well as recreational amenities and an outdoor entertainment zone.
"College View is an exciting new addition to our campus housing portfolio," said MSU Vice President for Student Affairs Regina Hyatt. "It gives our upper-division students the autonomy of apartment-style living and the conveniences associated with on-campus living like close proximity to classes, athletic venues and dining options. The new Bulldog Square will also enhance student life as we now have a new space for outdoor music, festivals, and events. Importantly, we look forward to seeing new retail locations, restaurants, and more which will not only enhance student life but also our greater Starkville community."
College View is powered by an advanced microgrid energy system that makes the development more efficient and improves the resiliency of its power systems. Developed by Blue Sky Power, the microgrid will reduce MSU's carbon footprint by approximately 750 metric tons of carbon per year, resulting in $116,000 in annual savings.
For more on College View, visit www.livecollegeview.com.
Greystar is a leading, fully integrated real estate company offering expertise in investment management, development, and management of rental housing properties globally. To learn more, visit www.greystar.com.
MSU is Mississippi's leading university, available online at www.msstate.edu.