Greystar Unveils New Corporate Headquarters
Press Release
December 5, 2019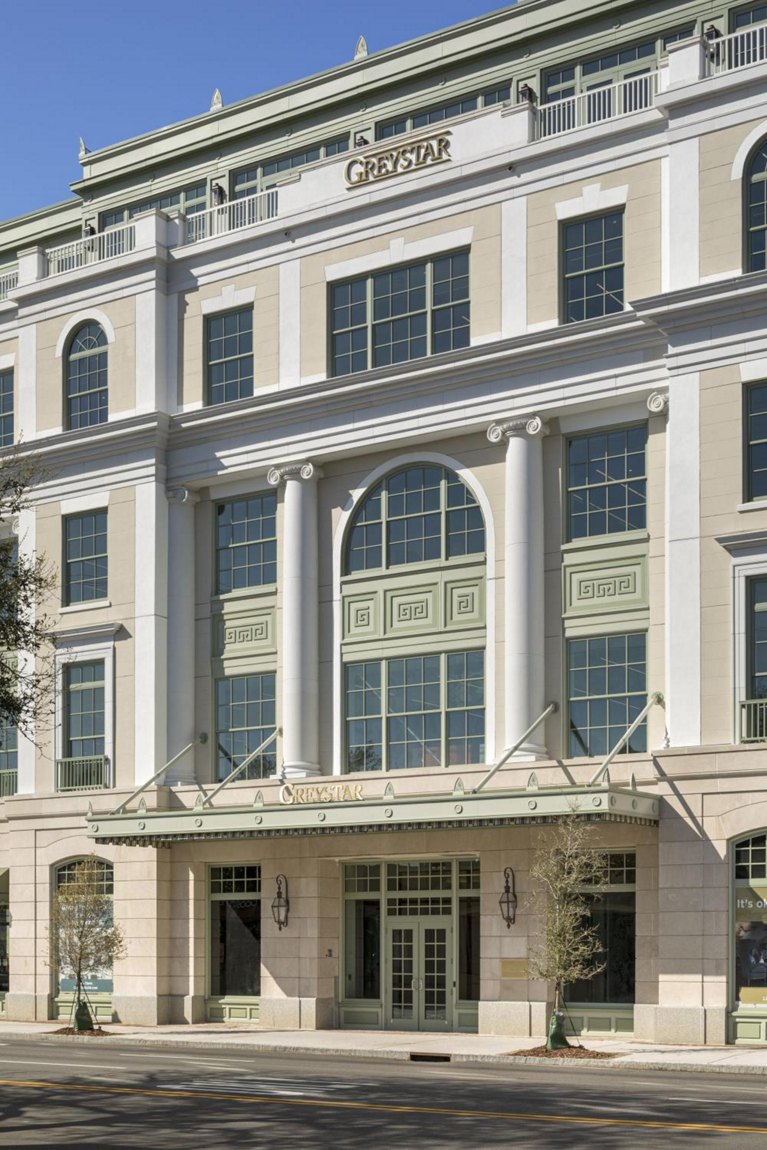 Exterior Architecture by Robert A.M. Stern Architects,
Interior Architecture and Consulting by Gensler
Interior Design by Elizabeth Stuart
CHARLESTON, S.C. – December 2, 2019 – Greystar Real Estate Partners, LLC ("Greystar"), a global leader in the investment, development, and management of high-quality rental housing properties, together with Robert A.M. Stern Architects ("RAMSA"), Gensler and Elizabeth Stuart, today announced the completion of the Greystar Building, the company's new Charleston, S.C., headquarters. The five-story, 82,000-square-foot building introduces a modern, mixed-use development into a historical urban context.
The property – which completes the first phase of Evening Post Industries' broader Courier Square redevelopment – was designed from the outside in, taking cues from Charleston's classical tradition of 19th century architecture and integrating Greek Revival details to construct a property that reflects its surroundings. The Greystar Building is the second property to open as part of the first phase of development within the master plan. Greystar and RAMSA celebrated the opening of The Guild, a rental housing property owned and managed by Greystar, in the spring of 2018. The Guild serves as a showpiece of the superior level of quality Greystar brings to the table as an owner, developer and property manager of rental housing.
"Greystar is a Charleston-bred company, so we were highly sensitive to the fact that our new headquarters needed to blend seamlessly into its exterior environment while providing the interior scale and infrastructure needed to support our rapidly growing team," said Bob Faith, Chairman and CEO of Greystar. "The result is an intuitively designed property that thoughtfully integrates architectural relevance with modern, progressive design to facilitate greater collaboration and productivity among our teams."
The team behind the Greystar Building was especially cognizant of the fact that Charleston is famed for its iconic historical architecture, and RAMSA was empowered to design a building that blends seamlessly into its surroundings, integrating new buildings into the smaller-scale urban fabric of the neighborhood. To address this need while developing a property that was appropriately sized to house Greystar's growing team, RAMSA designed the exterior to resemble multiple smaller and architecturally relevant buildings. Accomplishing this feat demonstrates that new construction can be thoughtfully designed to reflect the scale and character signature to its environment.
"Where we designed the Guild to reflect the neighborhood's industrial warehouse past, for Greystar's corporate headquarters we looked to the dignity of Charleston's classical civic buildings to express Greystar's commitment to the life of the city," said Gary L. Brewer, the Partner at Robert A.M. Stern Architects who led the design of both projects. "We're pleased to have been entrusted to design these two buildings, which are among the first to realize the promise of the City of Charleston's new Height District Ordinance, underpinned by guidelines written by DPZ, that enables the sensitive introduction of greater density to the Upper Peninsula." LS3P served as master planner and architect of record.
Gensler and Elizabeth Stuart worked closely together to create a modern and progressive interior setting that reflects the dynamic, world-class nature of Greystar's growing business and introduces a more diverse array of workspaces to meet the evolving needs of today's workforce. The teams employed the same level of careful consideration Greystar uses to design its portfolio of purpose-built rental housing properties, and the primary objective for the property's interior design was to create a space that would foster creativity and productivity. Greystar was looking for an environment that could support its efforts to facilitate greater levels of transparency, innovative service delivery and learning, as well as attract top-tier talent to enhance the company's vertically integrated global platform.
"Our project team meshed the traditional envelope with a modern and progressive interior setting to reflect the dynamic, world-class nature of Greystar's growing business," said John Gaulden, principal and co-managing director of Gensler Charlotte. "By blending a variety of collaborative spaces with options for heads-down work, we created a unique, nearly office-free environment that reflects the casual collegial culture while providing a structure to showcase Greystar's expertise to their clients and investors."
The resulting office environment is a free address space, which encourages Greystar team members to work in the way that best suits them and providing diverse optionality to fit the needs of each employee as well as accommodate the company's continued growth. Each detail of the interior design was meticulously planned – down to evaluating the psychology of Greystar's various teams – to ensure the resulting atmosphere would be conducive to supporting the team's needs and producing the highest-quality work. The centerpiece of the office – and what serves as its primary physical connector – is a central stair across three floors, which provides access to workspaces, conference rooms, phone booths and amenity spaces.
"Our goal was to design an innovative, flexible workspace that would promote a sense of collaboration, provide choice and balance throughout the workday and take Greystar into the future," said Elizabeth Stuart, principal of interior design firm, Elizabeth Stuart. "We drew inspiration from RAMSA's outstanding design, Greystar's engaging culture and the panoramic views of the Charleston Harbor and Ravenel Bridge seen through the building's windows. The bridge is a staple of Charleston; it's light, airy and a dynamic design. Like it, we designed Greystar's global headquarters to be crisp, clean and progressive. From the dramatic hand-curated Halsey art installation and iconic Knoll furniture to the high-touch technological aspects, we have created an office that feels distinctly Greystar and reflects the company's world class stature, while also feeling right at home in Charleston."
The Greystar Building is a mixed-use property comprising five stories and 82,000 square feet, including 70,000 square feet of office and 12,000 square feet of retail space. The office component boasts 289 sit-stand workstations; 130 touchdown seats, which are also standing height-capable; and 71 diverse conference rooms and collaborative spaces. The teams integrated sustainable office practices into the design and functionality of the building, including infrastructure to support Greystar's paperless initiative, motion sensored lighting to limit power usage, and the introduction of filtered water machines to eliminate plastic water bottles in the office. The property is also well-amenitized, providing Greystar team members with on-site access to a coffee bar, fitness center, yoga studio and locker rooms with showers.
About Greystar:
Greystar is a leading, fully integrated real estate company offering expertise in investment management, development, and management of rental housing properties globally. Headquartered in Charleston, South Carolina, Greystar manages and operates an estimated $160 billion+ of real estate in nearly 200 markets globally including offices throughout the United States, UK, Continental Europe, Latin America, and the Asia-Pacific region. Greystar is the largest operator of apartments in the United States, managing more than 500,000 units/beds, and has a robust institutional investment management platform with approximately $36.1 billion of assets under management, including nearly $14.2 billion of assets under development. Greystar was founded by Bob Faith in 1993 with the intent to become a provider of world-class service in the rental residential real estate business. To learn more, visit www.greystar.com