Greystar and California State University, Sacramento Celebrate Groundbreaking of Hornet Commons
Press Release
June 4, 2019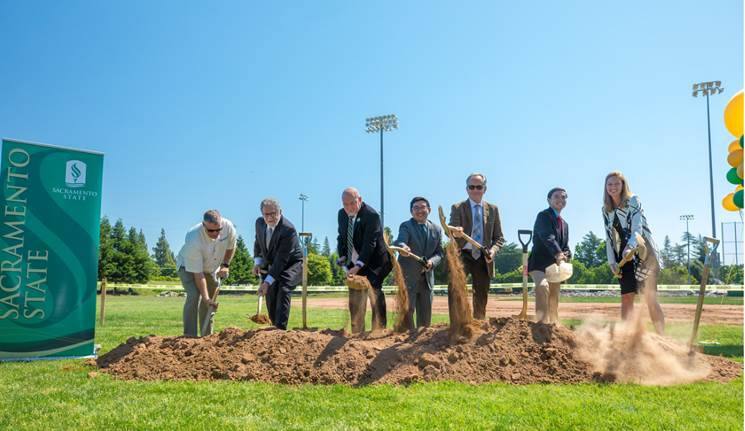 SACRAMENTO, Calif. – June 4, 2019 – Greystar Real Estate Partners, LLC ("Greystar"), a global leader in the investment, development, and management of high-quality rental housing properties, today celebrated the ceremonial groundbreaking of Hornet Commons with California State University, Sacramento and the university's nonprofit affiliate, University Enterprises, Inc.
The project, which was designed by Steinberg Hart architects and will be built by Sundt Construction, will house 1,100 upper division students in 284 apartment-style units by the start of the 2021-22 academic year. The project is comprised of six four-story residential buildings and clubhouse, altogether spanning approximately 360,000 square feet of space.
"We are constantly seeking innovative opportunities to enhance the student experience at Sacramento State," said Robert S. Nelsen, President of California State University, Sacramento. "Officially breaking ground on Hornet Commons marks an important phase in the development of this housing project, but it also reflects our dedication to providing a vibrant and welcoming home to all of our students."
Jim Reinhart, Executive Director of UEI, added, "Hornet Commons meets the demand for modern, on-campus, upper division student housing and helps keep costs reasonable for our students."
When completed, the mix of studio, two- and four-bedroom units will feature amenities such as full kitchens and in-unit laundries. On-site amenities will include a café, study lounges, fitness center, community room, business center, outdoor pool, sand volleyball, bocce court, barbeques and surface parking for 546 cars and over 300 bicycles.
"We are delighted to partner with California State University, Sacramento to increase the scale and variety of on-campus housing options," said Julie Skolnicki, Senior Managing Director of University Partnerships at Greystar. "We've seen first-hand how creating the right environment can positively impact learning outcomes for students, leading to higher retention and graduation rates, and we look forward to providing Sacramento State students with an elevated housing solution that will enhance their on-campus experience."
About Greystar
Greystar is a leading, fully integrated real estate company offering expertise in investment management, development, and management of rental housing properties globally. Headquartered in Charleston, South Carolina, Greystar manages and operates an estimated $115 billion of real estate in over 180 markets globally including offices throughout the United States, UK, Continental Europe, Latin America, and the Asia-Pacific region. Greystar is the largest operator of apartments in the United States, managing approximately 500,000 units/beds, and has a robust institutional investment management platform with over $33 billion of assets under management, including more than $12.1 billion of assets under development. Greystar was founded by Bob Faith in 1993 with the intent to become a provider of world-class service in the rental residential real estate business. To learn more, visit www.greystar.com.
About University Enterprises, Inc.
University Enterprises, Inc. (UEI) is a 501(3)(c) non-profit, tax-exempt, auxiliary organization of California State University, Sacramento. UEI provides commercial services for Sacramento State, including food service, the Hornet Bookstore, sponsored programs, student internships and property services.
Media Contact:
Megan Kivlehan
ICR on behalf of Greystar