Greystar and Partners Group complete acquisition of DC Tower III in Vienna
Press Release
November 13, 2018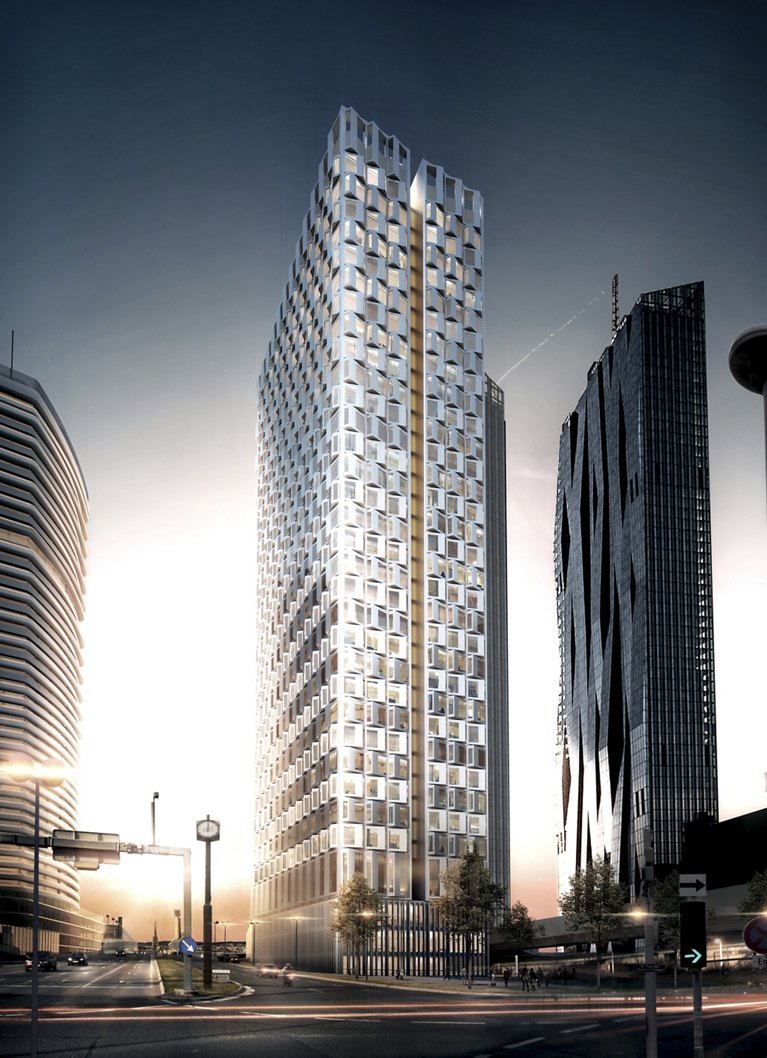 Vienna, Austria – Greystar Real Estate Partners, the global rental housing leader, and Partners Group, a global private markets investment manager, announce that the acquisition of the DC Tower III (DC III) project, an approximately 900-apartment rental residential and student housing development in Vienna, Austria, has been closed as of October 25, 2018. DC III marks the first investment for the partnership between Greystar and Partners Group, which is acting on behalf of its clients.
"The acquisition of DC III signifies an exciting milestone for Greystar. It emphasizes our commitment to develop best-in-class, professionally managed rental housing across the German-speaking markets to hold and operate long-term," said Thomas Wünsche, Greystar Head of Germany and Austria. "The investment complements our European growth strategy as Vienna is the second largest German-speaking city and among the fastest growing city populations in the EU. With close to 200,000 students of which approximately 30 percent are from abroad, the city is home to the third largest student population in Europe and, moreover, demonstrates a large international exposure."
DC III, a 110-meter high-rise building that will be located in the 20th district of Vienna at the Danube waterfront, will be delivered by Greystar in partnership with S+B Gruppe AG. On completion, the development will boast a total floor area of around 20,000 square meters and include contemporary apartments for corporate housing, short-stay, young professionals and students. By flexibly allocating certain lifestyles to certain floors, DC III will provide innovative solutions to Vienna's housing challenge and set new standards for urban housing. The ground floor space will host lounges, bars, gyms, screening rooms, study and co-working facilities, while a unique rooftop club room will serve as communal and event space.
DLA Piper, PwC and Otto Immobilien / Knight Frank advised Greystar and Partners Group.
About Greystar
Greystar is a leading, fully integrated multifamily real estate company offering expertise in investment management, development and property management of rental housing properties globally. Headquartered in Charleston, South Carolina, with offices throughout the United States, UK and Continental Europe, Latin America and Asia-Pacific, Greystar operates in over 150 markets globally and is the largest operator of apartments in the United States, managing over 480,000 units/beds. Greystar also has a robust institutional investment management platform dedicated to managing capital on behalf of a global network of institutional investors, with approximately $31 billion in gross assets under management including more than $12 billion of developments that have been completed or are underway – $9.9 billion in the U.S. and $2 billion internationally. Greystar was founded by Bob Faith in 1993 with the intent to become a provider of world class service in the rental housing real estate business. To learn more about Greystar, visit www.greystar.com. Data as of Q2 2018 but pro forma for inclusion of EdR transaction.

About Partners Group
Partners Group is a global private markets investment management firm with EUR 67 billion (US$ 78 billion) in investment programs under management in private equity, private real estate, private infrastructure and private debt. The firm manages a broad range of customized portfolios for an international clientele of institutional investors. Partners Group is headquartered in Zug, Switzerland and has offices in Denver, Houston, New York, São Paulo, London, Guernsey, Paris, Luxembourg, Milan, Munich, Dubai, Mumbai, Singapore, Manila, Shanghai, Seoul, Tokyo and Sydney. The firm employs over 1,000 people and is listed on the SIX Swiss Exchange (symbol: PGHN) with a major ownership by its partners and employees. To learn more about Partners Group, visit partnersgroup.com.

About S+B Gruppe AG
S+B Gruppe AG, a privately-owned property developer with offices in Vienna, Prague, Bucharest and Warsaw, has been realizing projects for over 30 years, acting as both an investor and general contractor. The team headed by Reinhard Schertler and Alfred Michael Beck specializes in architectural design, contracting, financial management and marketing for top-quality construction projects. So far, the Group has invested over EUR 3 billion in developing real estate with a total of 1,000,000 sqm of usable space.
Media Contact:
Liza Kunkel
Greystar Public Affairs
Media Contact:
Julia Zhang
jzhang@heringschuppener.com
Phone: +49 151 40 70 53 24