Greystar acquires new site in Frankfurt for Germany & Austria Develop-to-Core Venture
Press Release
June 8, 2022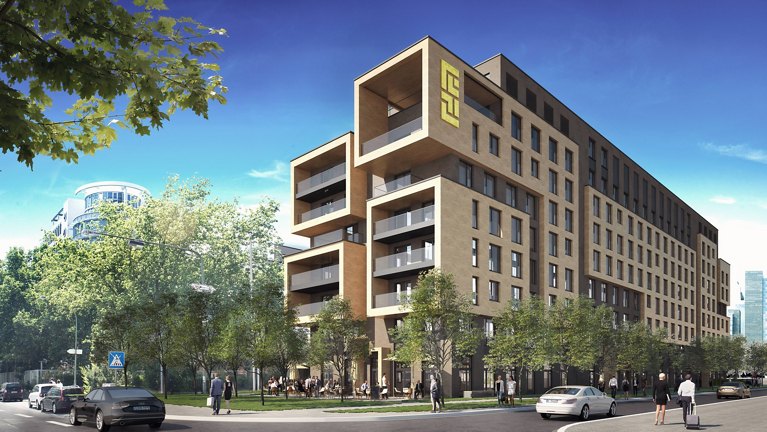 Frankfurt, 1 June 2022 – Greystar Real Estate Partners, LLC ("Greystar"), a global leader in the investment, development, and management of high-quality rental housing, has acquired the "Kanso" development, a 303-unit mid-rise residential project in Frankfurt. This is the second acquisition for its Germany and Austria €1 billion develop-to-core venture with a global institutional investor following the announcement that Greystar has purchased 234 units in Hamburg earlier this year.
The forward purchase transaction with Argaman Group will see the "Kanso" building, designed by V. Zelmanson and Planquadrat Architects, ready for occupation from Summer 2022. It will predominantly comprise studio apartments and a selection of one-beds with a range of resident amenities alongside a kindergarten, restaurant and retail space totally 685 sqm.
The building will operate under Greystar's expanding pan-European student and young professional brand "Canvas Living". The brand is already operating in other European metropolises and university cities such as London, Conventry, Glasgow and Utrecht. Canvas Frankfurt will be the first building in Germany for the new multi-asset strategy, which enables Greystar's partners to tap into a wider footprint and the financial efficiencies of scale via a license model.
Mark Allnutt, Senior Managing Director – Europe, Greystar, said: "We are making good progress with our strategy to build a diversified portfolio in Germany and Austria from the ground up focusing on residential assets of scale. We are well capitalised and continuing to look for forward purchase, development and value-add opportunities in key markets including Berlin, Hamburg and Vienna. Our new asset will join our network of Canvas properties across Europe and as the footprint continues to grow, we hope to offer residents the ability to move seamlessly between location giving them easy access to a range of cities."
David Roitman, founder of the Argaman Group, explains: "Since 2012, the Lyoner Quartier (formerly Bürostadt Niederrad) has been developing dynamically from a pure office district into a new mixed-use neighborhood. The challenges are manifold. One has to compete with residential construction against economically more profitable uses and also create economically less advantageous uses such as retail and gastronomy so that the entire situation becomes attractive for future users. Implementing the Kanso vision structurally took priority over cost or technically simpler solutions. In the end, the realization exceeded our expectations."
Canvas Frankfurt will house a range of high-quality amenities supported by a dedicated onsite team to provide residents with an exceptional lifestyle experience. In Frankfurt, the primary amenity zone at entrance level offers a thoughtfully designed residents' lounge and gym, with floor to ceiling glazing overlooking the entrance courtyard. The ground floor amenity space is supplemented by a 200 sqm rooftop terrace providing skyline views.
Frankfurt currently has a vacancy rate of just 0.2%, so the new development will provide much needed housing to meet demand. Frankfurt is a global hub for commerce, culture, education and is especially known for its financial centre. Canvas Frankfurt sits within Lyoner Quartier submarket, historically an office market that has undergone significant regeneration. The resident population has grown from 600 to over 5,000 in the last ten years. The neighbourhood provides easy access to multiple employers and lifestyle amenities as well as an excellent public transport connection. The site is located 200 metres from the Niederrad S-Bahn-station.
Greystar entered the market in Germany and Austria in 2018 with the acquisition of District Living, a 110-metre high-rise in Vienna's 22nd district on the banks of the Danube. The building has since completed and is getting ready to open its doors to residents in June 2022.
Canvas Frankfurt
For more information contact:
Dr. Heinrich Raatschen
Tel: +49 69 153 24 21-15
About Greystar
Greystar is a leading, fully integrated real estate company offering expertise in investment management, development, and management of rental housing properties globally. Headquartered in Charleston, South Carolina, Greystar manages and operates over $221 billion of real estate in 224 markets globally including offices throughout North America, Europe, South America, and the Asia-Pacific region. Greystar is the largest operator of apartments in the United States, manages over 768,000 units/beds, and has a robust institutional investment management platform with more than $58.2 billion of assets under management, including over $24 billion of development assets. Greystar was founded by Bob Faith in 1993 with the intent to become a provider of world-class service in the rental residential real estate business. To learn more, visit www.greystar.com.