Greystar Raises Over $280,000 in Support of PTSD Foundation Camp Hope
Press Release
November 1, 2018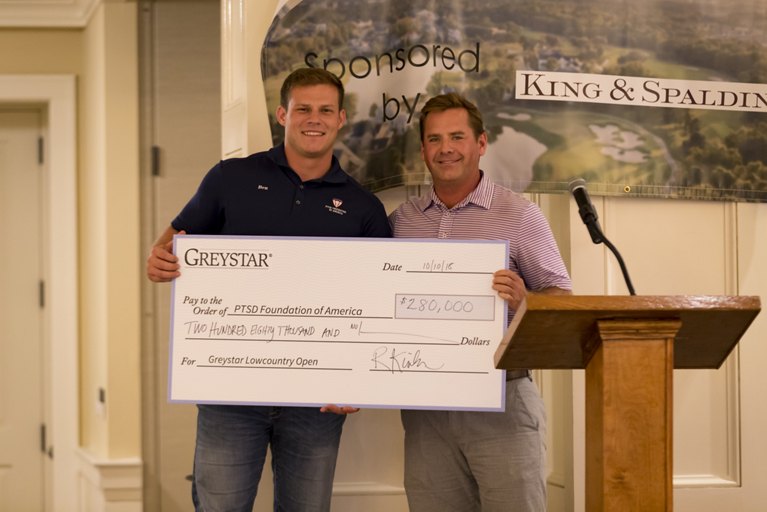 Charleston, SC (November 1, 2018) – Greystar Real Estate Partners, LLC ("Greystar"), a global leader in the investment, development, and management of high-quality rental housing properties, recently hosted the inaugural Greystar Lowcountry Open, which raised more than $280,000 for the PTSD Foundation of America and Camp Hope, bringing the total Greystar has raised for the organization to-date to over $2,000,000. Camp Hope aids and mentors Wounded Warriors, veterans and their families that suffer from combat-related PTSD. Donations made to PTSD Foundation of America ensure the continued support of Camp Hope, sustain their national outreach efforts, and provide critical resources for families of America's heroes across the Nation.
The event welcomed the support of more than 130 golfers, with sponsorships from over 40 construction, development, investment, insurance and financial institutions. Attendees enjoyed a welcome dinner and concert with Danielle Bradbery, a Nashville recording artist and winner of The Voice Season 4. Following the tournament, a cocktail reception and awards ceremony concluded the event.
Greystar Giving is a company-wide philanthropic effort that was launched in 2010 to partner with nonprofit organizations, giving Greystar team members a platform to support charitable causes. Since 2014, Greystar Giving has supported Camp Hope, a facility operated by the PTSD Foundation of America that provides interim housing, mentoring, and healing to veterans suffering from Post-Traumatic Stress Disorder. To date, Greystar has raised approximately $2,036,000 to support the PTSD Foundation and Camp Hope while taking an active role in managing the development and construction of the Camp Hope veteran's community in Houston. All proceeds from The Greystar Lowcountry Open will benefit the PTSD Foundation of America and Camp Hope to further their mission of providing a safe, caring environment to veterans and their families.
Bob Faith, Chairman and CEO of Greystar, said: "Community service is a pillar of Greystar's ethos and operations, which we like to call our Pillars of Excellence. As such, we are honored to raise awareness for and provide critical resources to Camp Hope and the PTSD Foundation of America. We remain committed to supporting America's heroes and their families across the nation. I would like to thank our dedicated team members, partners, sponsors and participants for joining us to support this incredibly important cause. We look forward to continuing our partnership with the PTSD Foundation."
David Maulsby, Director of Camp Hope, said: "The Greystar Lowcountry Open has provided an incredible donation to Camp Hope and the PTSD Foundation, and we are so pleased to use these resources to benefit combat veterans who bear both visible and invisible wounds of war. The funding ensures that our South Carolina Chapter has the staff and resources required to provide outreach and support to the Veterans in your community. The funds from this fantastic and hugely successful event make this all possible. I thank the Greystar community for their support as we work to bring healing to the military community and raise awareness of the increasing needs of our brave men and women in uniform."
Wes Fuller, Executive Managing Director of Global Investment Management presents check to PTSD Foundation representative. October 10, 2018.
For more information about the Greystar Lowcountry Open, please visit http://greystarlowcountryopen.com/.
About Greystar
Greystar is a leading, fully integrated multifamily real estate company offering expertise in investment management, development and property management of rental housing properties globally. Headquartered in Charleston, South Carolina, with offices throughout the United States, UK and Continental Europe, Latin America and Asia-Pacific, Greystar operates in over 150 markets globally and is the largest operator of apartments in the United States, managing over 480,000 units/beds. Greystar also has a robust institutional investment management platform dedicated to managing capital on behalf of a global network of institutional investors, with approximately $31 billion in gross assets under management including more than $12 billion of developments that have been completed or are underway – $9.9 billion in the U.S. and $2 billion internationally. Greystar was founded by Bob Faith in 1993 with the intent to become a provider of world class service in the rental housing real estate business. To learn more about Greystar, visit www.greystar.com. Data as of Q2 2018 but pro forma for inclusion of EdR transaction.
About Camp Hope, Houston
The facility provides peer support and mentoring services, as well as interim housing for our Wounded Warriors, veterans, and their families suffering from combat related PTSD. Together with the PTSD Foundation of America, Camp Hope seeks to bring healing to the military community, raise awareness of the increasing needs of the military community, and network with government agencies, service organizations, churches, and private sector businesses to meet the needs of the military community. For more information, visit www.ptsdusa.org/camp-hope/.
Media Contact:
Liza Kunkel
Greystar Public Affairs
Liza.Kunkel@Greystar.com