Live in Southeast Georgia and enjoy all of the unique and fun activities the region brings to the table. Not many locations feature the perfect combination of climate, attractions and quality living spaces that Georgia showcases. Searching for living accommodations in the state has never been as effortless as it is now, and Greystar apartments offer residents a great place to live and work all while providing a stimulating and exciting community lifestyle.

With strategic highways flowing through it, the Southeastern Georgia region provides easy access to multiple large metropolitan areas. The territory is home to the Georgia Southern University's Garden of the Coastal Plain, a unique garden-themed cultural center and historical site. Children can broaden their horizons and explore in the Learning Garden, or take a stroll through the scenic wooded walking trails with their parents.

Statesboro's Mill Creek regional park is the ultimate summation of what an outdoor playing space should be. Featuring 155 acres dedicated to team sports, outdoor activities and family fun, the park also features the expansive Splash in the Boro Family Water Park and an enormous tennis facility/pro shop. Outdoor picnic pavilions give patrons pleasant seating options for snacking or eating lunch.

Thousands of Georgians regularly attend the Main Street Farmers Market in Statesboro to purchase fresh organic produce, baked goods and dairy products. In addition to some of the freshest foodstuffs on this side of the Mason Dixon line, the market also features demonstrations of culinary skills, live music and children's activities.

Eagle Nation is a Southern Georgia's public art project dedicated to saluting and appreciating Georgia Southern University's traditions, values and culture. A grand total of 50 impressive eagle sculptures, located in Statesboro, are painted to represent different ideas and values such as campus unity while raising funds for student scholarships and research.
You searched for Southeast Georgia
Please select properties from the list for comparison.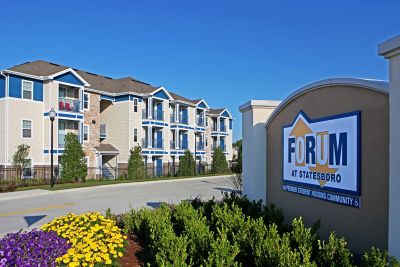 Forum at Statesboro Student Apartments
831 S Main St, Statesboro, GA 30458-3464
912-489-3676
0-4 Bedroom | 1-2 Bath
Car Care Center
Dog Park
Volleyball Court
Indoor Basketball Court
Pet Friendly*
Cyber Cafe With Coffee Bar
Wood Style Floors
Media Room
Pool And Spa
Valet Trash Pick-up
Tanning Beds
Roommate Matching
Student Center & Lounge
Indoor Volleyball
Convenient Individual Leases