Move to Northwest Arkansas and enjoy the tranquil solitude of living and working in some of America's most beautiful natural forests. Few other locations feature the phenomenal outdoor entertainment, gorgeous vistas and agreeable living conditions that Northwest Arkansas has to offer. It's never been easier to find the perfect apartment to rent, and Greystar offers ideal choices for anyone seeking a place to live in the heart of Arkansas' pristine environment.

Conveniently located within driving distance of major metropolitan areas in Oklahoma and Missouri, Northwest Arkansas is home to countless nature trails and open-air activities. With places like the Walton Arts Center, devotees of Broadway-style performances and fans of similar productions will feel right at home. The area features the Arkansas Music Pavilion, whose stage is often graced with some of country music's biggest stars.

Northwest Arkansas offers our apartment residents a unique opportunity to view an entire Presidential legacy at the Clinton House Museum. Detailing the lives, times and careers of the Clinton family, the museum is part of the "Billgrimage," a chain of important and noteworthy sites pertaining to the career of President William Jefferson Clinton.

Eureka Springs, a quaint Victorian resort village, is one of Arkansas' only towns completely designated as a historic district. The winding streets and dramatic elevation changes within city limits earned the village its nickname as "The Stairstep Town" as well as being named one of America's Distinctive Destinations by the National Trust for Historical Preservation. Seeing all of Eureka Springs is easy for Greystar apartment residents thanks to the town's structured tram tours and visitor friendly attitude.

Arkansas and traditional locomotives go together like peanut butter and jelly, and the North Arkansas railway possesses one of the Ozarka's largest, completely authentic collection of working steam engines. Our apartment residents can board the dinner train and dine on specialty entrees while enjoying a tour of ancient rail lines through forests that have remained unchanged for centuries.
You searched for Northwest Arkansas
Please select properties from the list for comparison.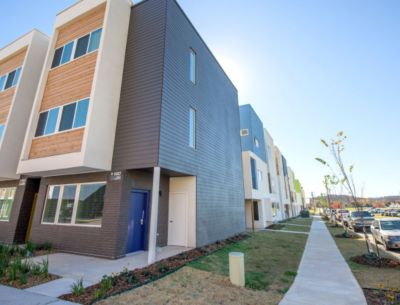 Beechwood Village
870 S Beechwood Ave, Fayetteville, AR 72701-6200
479-301-2835
1-4 Bedroom | 1-2 Bath
Pet Friendly
Electric Car Charging Stations
Roommate Matching Service
State-of-the-Art Fitness Facility
Cottage Style Housing
Full Size Washer/Dryers In Units
Walk-In Closet(s)
Quick Access To Campus
Connected To The Razorback Greenway
High Speed Wireless Internet